The Cat's Diet and Lily's Kitchen All Natural Cat Food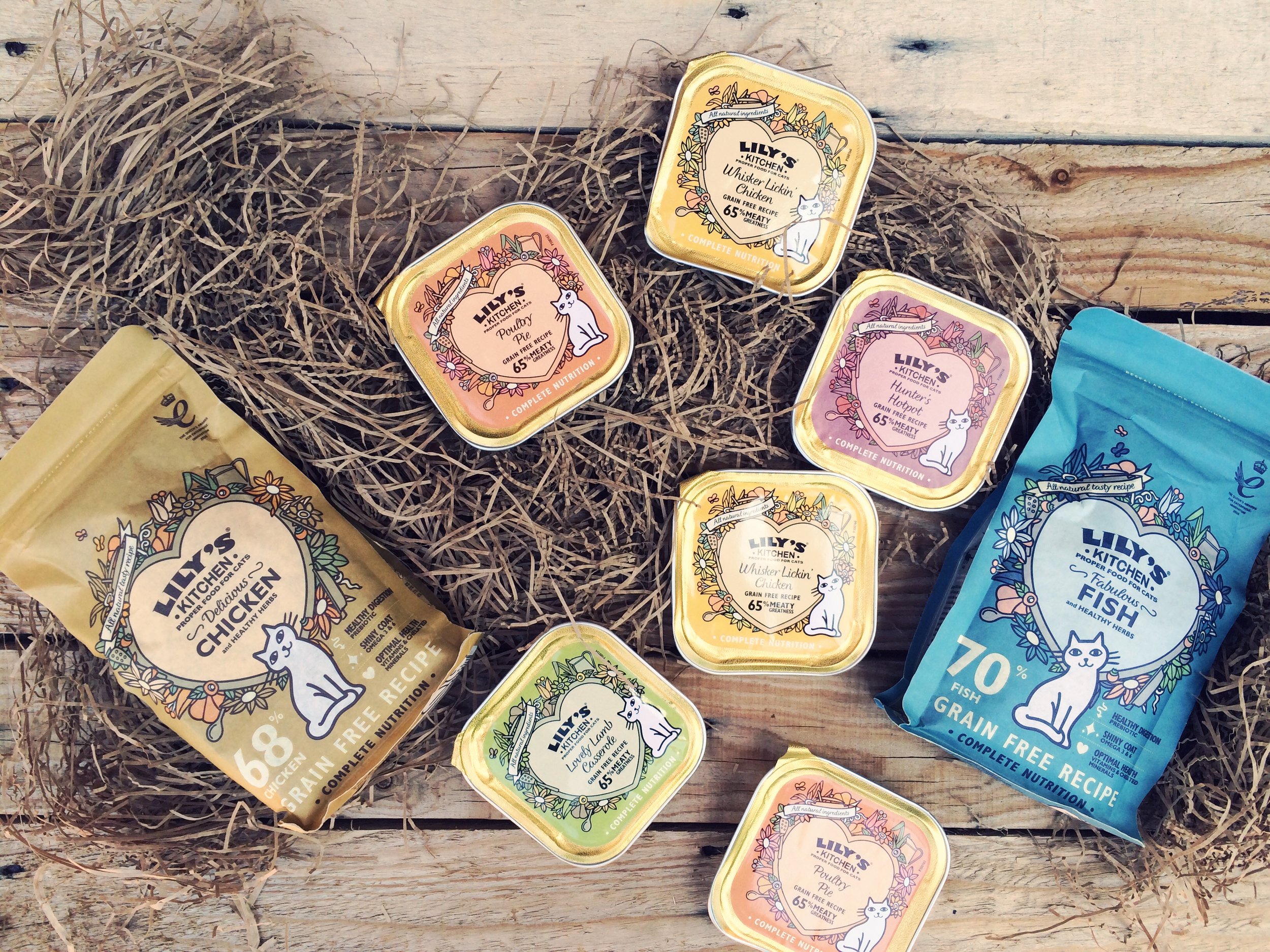 If you follow me on Instagram and watch my stories, you may possibly have realised I'm somewhat of a cat lady. WHO AM I KIDDING?! I'm the crazy cat lady who would do anything for her fluff balls. Every time I catch sight of one out of the corner of my eye, my heart bursts. Okay, maybe it doesn't burst when Arthur is drinking out of the toilet. Or when Katie goes on a vase and ornament rampage pushing everything off the shelves because Arthur has stalked her again. But when they're all snug and open one eye and do that little purr-meow, that's when it bursts.
They really are my world, there's nothing quite like coming home to four little souls who love you dearly. If I'm coaxed into impromptu after work drinks, I'll call my mum to ask if she can go around to my flat to let the cats in and feed them. Yup. They are treated like royalty.
A small fortune is spent on the meows each month but I wouldn't have it any other way. They each have their own little personalities and routines.
Arthur is currently my shadow and is never more than a few steps away from me. At just three months old he chose me, breaking into my flat. Having a huge fear of humans he decided to live under my sofa for a whole six weeks before I even had a chance of touching him. You can read Arthur Cat's Story here.
Katie is the Queen, she is the eldest, the prettiest, the most precious and snobbish. Her nose is turned up at food on a regular basis. If Arthur so much as brushes past her she will spend hours cleaning herself. Kate came into my life thirteen years ago, she was just three days old and had to be bottle fed. You can read Katie Cat's Story here.
Tina is the Boss. Luckily she doesn't actually realise this so doesn't use it to her advantage what so ever. She's stumpy with short legs and rather a round tummy. The others are very respectful of her and she always gets top spot. If Tina could talk she'd have an Essex accent for sure. If you sit down anywhere in my flat, she will be on your lap in a heart beat. My cats haven't quite got the hang of personal space yet. We're working on it. Tina was actually my family's cat and decided she'd quite fancy living with me instead, you can read Tina Cat's Story here.
Finally there's Albert, the new addition. He is actually Arthur's brother but went missing on and off for two years. How do I know it's the same cat? He has a ridiculously distinctive meow. He's a friendly giant who is very scared of people. Slowly but surely over the past few month's he's becoming more trusting. I'm trying to fatten him up a little at the moment! Albert's Story will be coming soon.
The lovely people at Lily's Kitchen sent me some of their cat food to try out. It's grain free and uses all natural ingredients. The food is a complete and balanced nutrition and has extra vitamins, omega oils and minerals to promote healthy skin and fur as well as general health and a happy feline digestive system.
I was over the moon when they said they would like to send me some food the babies. My only worry? I had checked out the price, this was definitely on the higher end. What if they loved it so much, they turned down their usual food? We gave it a go anyway.
Cats are funny creatures, they can go months eating the same food to one day turn around and be like; "stuff your food human. I shall not lower myself to your standards, I demand better food than this". I have a few fussy eaters in my tribe. In fact they can all be fussy when they feel like it, apart from Tina. Tina will eat anything. I throw away so much wet cat food because they've decided that flavour isn't for them today. Tina would eat it all if she could, but she'd also get an upset stomach.
I was surprised to find that they devoured the wet food tins within minutes every single time. Even Katie. This has definitely swayed me on the wet food. Recently I've been feeling like I was literally flushing money down the toilet as I threw away untouched wet cat food each day. I prefer to spend the extra knowing that they enjoy it and actually eat it, especially when it's filled with so much goodness.
Arthur is quite literally over the moon with the dry food. I think he thinks it's a reward or a treat. The cat's have their own covered tuppers of dry food which they eat during the day as and when they are hungry. There are also plenty of big bowls of water dotted around the place too. I gave them small handfuls of Lily's Kitchen dry food in the evenings and Arthur goes crazy, especially with the fish flavoured one. He lies on his tummy and rolls around, throwing the food in the air with his paw, only to catch it and eat it. This goes on for a good ten minutes.
Tina and Albert both enjoy the chicken flavoured dry food, not quite as ecstatically as Arthur. Katie on the other hand isn't keen, which doesn't surprise me. She's had a long love affair with munchies for kittens for the past thirteen years. I don't think much will change that.
Overall it's been lovely to see them wolf down their food, they seem to really enjoy Lily's Kitchen. Will we be changing completely? I don't think so. We'll definitely be stocking up on the wet food which they'll have a few times a week and I'll have to keep a supply of the dry food as an evening treat. Especially for Arthur!
I love the ethos of Lily's kitchen, it definitely rings true with my own all natural, organic diet. The cats love the food but I like to make sure they have a really good variety of different wet food so they don't go on strike. Been there, done that. It was a scary time. So I tend to buy lots of different brands of wet food and Lily's Kitchen will be added to the shopping list along with the old favourites.
This post isn't a sponsored post. Lily's Kitchen were kind enough to send me their food to try but did not expect anything in return. I just thought it may be useful to share my findings with other cat parents.
I'd love to hear what your cats eat, do you have fussy felines too?
Peta x
You can follow Lily's Kitchen on Twitter
And on Instagram
If like me you love following your fave brands!