Plant Based Spirulina Chocolate Protein Smoothie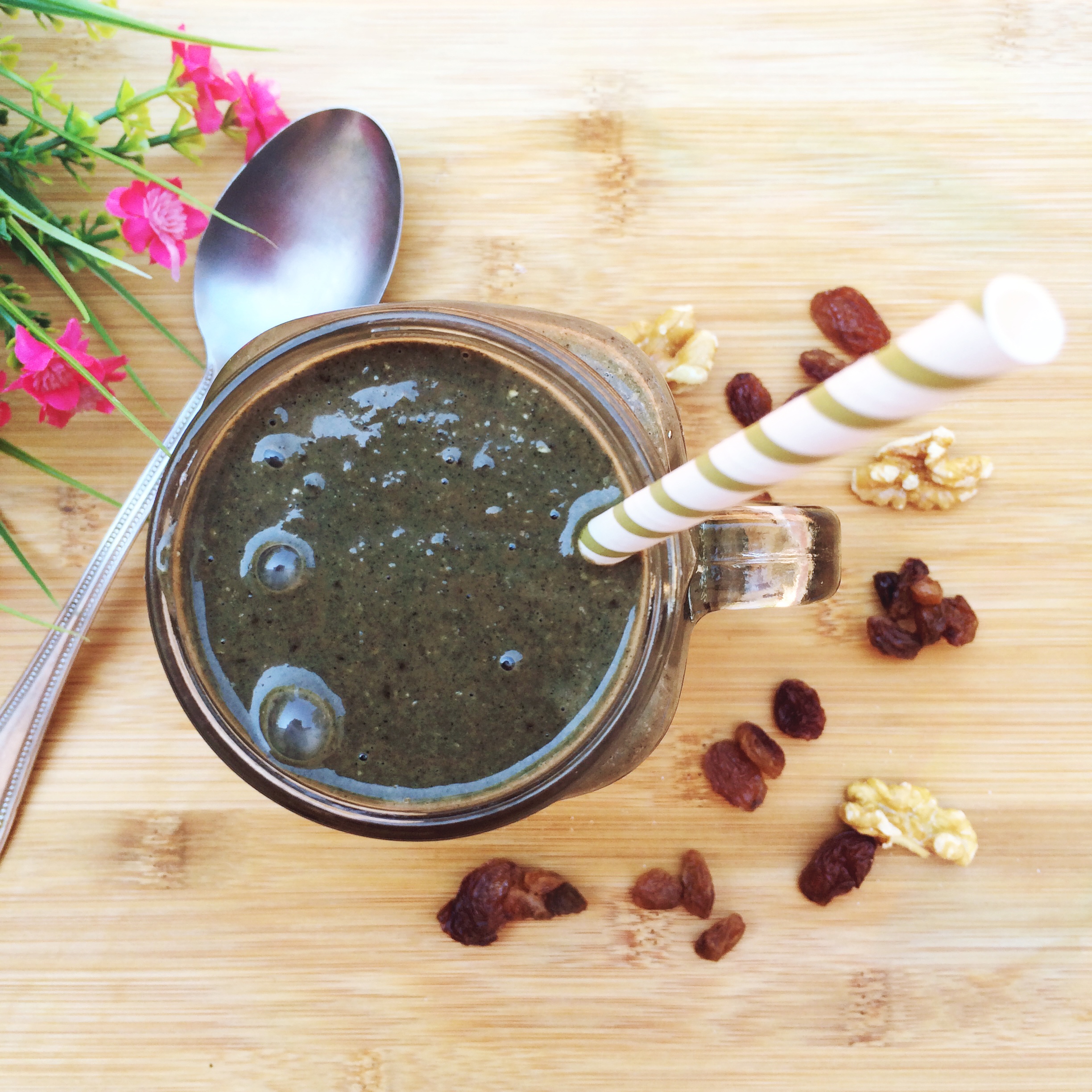 This plant based spirulina chocolate protein smoothie is delicious. The sultanas and pure cacao sweeten the plant based goodness and over power the taste of spirulina, which I must admit I'm not a fan of! I've tried many different ways to add spirulina to smoothies but never found anything I actually enjoyed. For me enjoyment and taste comes above all else with food, when we love the food we're eating AND it's good for us, it will nourish our bodies so much more. Which is why you'll never see me sitting down to eat a bowl of salad leaves on their own, let's leave those to the rabbits shall we? Spirulina is an algae, and the powder made from this fresh water plant has an insane amount of benefits. If you follow a predominantly plant based diet as I do, spirulina will help top up those much needed protein levels. It contains all of the essential amino acids unlike most other non-animal proteins. It's also a fantastic source of iodine, it ranks in a similar position to meat and dairy products on the iodine scale.
Spirulina is high in Vitamin K, potassium and a plethora of other vitamins and minerals. This super food helps to fight allergies, regulates blood pressure and lowers cholestoral. It's a fantastic body guard for the brain, protecting the memory, causing higher levels of focus and concentration. The benefits of this green powder go on and on, with it being an anti-inflammatory and boosting immunity.
This smoothie also contains matcha green tea, which I'm sure you've heard me bang on about in the past. I've never found anything quite like this as unlike coffee I don't get hyped up or anxious from drinking it. In fact my focus and concentration is sharp and I feel calm and on top of things.
Plant Based Spirulina Chocolate Protein Smoothie Ingredients:
Makes 2 smoothies
1 cup of oats
1 handful of sultanas
2 tbsp of pure cacao
1 tsp of matcha green tea powder
1 tbsp of spirulina
1 handful of walnuts
2 tbsp of mixed seeds
2 cups of COLD plant based milk - I love using almond or rice milk but soya milk also tastes great!
1 scoop of plant based protein powder if I'm enjoying this after a workout.
Method:
Pop all of the ingredients into a blender and whiz up for a few minutes until smooth.
Enjoy!